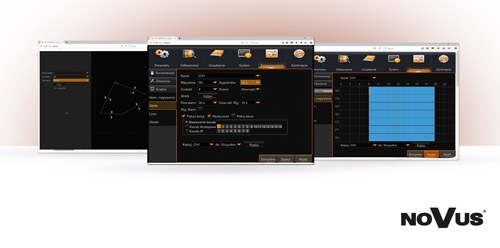 AHD 4 Mpx recorders
supporting all analog TV standards available on the market (AHD, CVI, TVI, Analog) have been enriched with intelligent image analysis (VCA) algorithms. The
VCA
functions have been implemented in the
NHDR-4M5316AHD
and
NHDR-4M5308AHD
recorders. They concern one AHD channel regardless of the type of signal provided by the cameras (analysis algorithms are implemented in the recorder). Additionally, in the case of IP cameras from the NOVUS series 2000, all IP channels have intelligent functions (analysis algorithms are implemented in cameras).
In the Zone violation function, up to four detection zones can be defined. An alarm event is generated when the zone border is crossed by an object moving in a specified direction. The Cross-line function allows to determine up to four detection lines, and an alarm event is generated when the determined line crosses a designated line by a moving object in a given direction. In the case of the Object detection function, an event is triggered by the appearance of an object in a specific zone or the disappearance of an object. In order to reduce the number of false events, the time range of operation of the above-mentioned function can be set using a graphical schedule.
All VCA events are saved in the system logs of the device, so that you can immediately view the filtered events in playback mode. In addition to the above events, you can assign an alarm action, eg displaying a full-screen image, turning on a sound signal, sending an e-mail or displaying an event icon.
For most of the facilities mentioned above the functions can automate the supervision process, make it more reliable and relieve the operator of the surveillance system.